Blog
General
Travel
Hockey
Technical
Gaming
Catalogue
Movies
TV Shows
Music
Video Games
Stats
Pages
Travel Plans
Hockey Games
Live Music
Phone History
Monument Mounting
Things to Do
Links
About



Current Blogs
2017 (12)
2016 (1)
2015 (24)
2014 (1)
2013 (4)
2012 (39)
2011 (2)
2010 (18)
December (1)
July (1)
June (2)
May (2)
April (3)
March (1)
February (3)
January (5)
2009 (28)
2008 (25)
2007 (67)
2006 (23)
2005 (32)
2004 (10)



General (13)
10 in '10 (4)
Books (1)
DVDs (3)
Funny (13)
Gadgets (5)
Hawt (1)
Movies (14)
Music (7)
Pets (4)
Recipe (17)
Running (3)
TV Shows (2)
Web (29)


Travel (80)
Akihabara (1)
Amsterdam (1)
Argentina (2)
Asakusa (1)
Barcelona (1)
Berlin (1)
Brussels (1)
Budapest (1)
Buenos Aires (1)
Cairo (1)
Calgary (2)
Chicago (1)
Cusco (1)
Dijon (1)
Dresden (1)
Edinburgh (1)
Edmonton (12)
Florence (1)
Gero (1)
Ginza (1)
Harajuku (1)
Himeji (1)
Hiroshima (1)
Iga (1)
inca-trail (1)
Ireland (1)
Japan (22)
Kamakura (1)
Kawaguchiko (1)
Killarney (1)
Kobe (1)
Krakow (1)
Kuala Lumpur (1)
Kyoto (1)
Lima (1)
Lisbon (1)
London (1)
Lyon (1)
Madrid (1)
Meguro (1)
Miami (1)
Milan (1)
Montreal (1)
Nagoya (1)
Naples (1)
Naples (FL) (1)
Nara (1)
New York (9)
Niagara Falls (3)
Nice (1)
Nikko (1)
Nile Cruise (1)
Odaiba (1)
Osaka (1)
Ottawa (1)
Paris (1)
Philadelphia (1)
Phuket (2)
Pittsburgh (12)
Porto (1)
Prague (1)
Provins (1)
Quebec City (1)
Rome (1)
Sakura (1)
Shibuya (1)
Shinjuku (1)
Takayama (1)
Tampa (1)
Toledo (1)
Toronto (1)
Ueno (1)
Valencia (1)
Vancouver (1)
Venice (1)
Vienna (1)
Warsaw (1)
Washington (4)
Whistler (1)
Yokohama (1)


Hockey (3)
Lemieux Fantasy Camp (4)
Pittsburgh Penguins (31)
Wolverines (1)


Technical (4)
.NET (3)
Java (4)
Software (3)
Work (2)


Gaming (6)
Commodore 64 (2)
Master System (1)
Mega Drive (1)
Rock Band (1)
Xbox 360 (16)
XNA (1)

The rarely updated blog of Joel Dixon
Viewing blogs posted in 2010
Sunday, December 26, 2010
# Posted by Joel Dixon at 26/12/2010 22:39:27

I completed the 10 things for 2010 with around 6 months to spare. Another desire for 2010 was to see a lot more live music - mission accomplished.



Now Google Translate helped me with that last sentence - but I'm hoping by the end of 2011 - I'll be well on my way to speaking conversational Spanish on my own. A friend at work has started weekly Spanish lessons that have been going well. I'm hoping I can learn enough to justify a trip to Mexico sometime in the next two years.


# Posted in the General section
---
Tuesday, July 20, 2010
# Posted by Joel Dixon at 20/07/2010 19:11:21

Time for more random travel, this time to Phuket, Thailand.



The Setup



Similar to our last random travel, the destination of Phuket came in a round about way. Jules had two weeks off from work, and decided he wanted to go skiing or somewhere tropical. I joined him on the trip to the travel agent - in case his holiday sounded fun enough for me to ride upon his coat tails. When one week in Patong Beach, Phuket was decided upon - I jumped upon the afore-mentioned coat and road along
.



Flights



Jules asked if there was any chance we could sit in an exit row seat, for the added leg room, and it was granted. When we finally sat down on the plane - we saw that the exit row seat comes with about two metres of leg room! Coupled with the fact that the third in our row of three seats was unoccupied - I can safely say best flight ever! Oh - and I saw a great Michael Cera movie on the plane, Youth in Revolt. Go and watch it now, I'll wait.



The Resort







The fantastic view from the back of the resort



We stayed at the Impiana Resort & Spa on Patong Beach, and it was fantastic. One of the few resorts that opens directly to Patong beach, it has a fairly upper-class spa and restaurant on-site and the staff were polite and helpful.

We splashed out on the first night and enjoyed a fancy dinner at the award-winning Sala Bua Restaurant. It was a pretty incredible meal, but got a little too romantic of Jules and I when the candlelight came out.





The pretty love-heart shaped rice that Jules and I shared



I was getting a little worried about the room-service bill towards the end. We each had a 2-hour spa massage, our fancy dinner, a few normal meals and around 25 drinks charged to the room. In the end - the bill came to around $200 each - I was expecting far more!



The Locals



On our first day we met two groups of locals that really helped us with suggestions for eateries and night-time activities.

We firstly walked past a Fisho Spa, where little fish nibble on your feet for ex-foliation purposes. The fish-spa was fun, but the girls running the place were quite nice and provided helpful tips on places to eat and shop.





The Fisho Spa



Also on that first day, we decided to have drinks at the Aussie Bar so we could play a few games of pool. The bar staff were quite nice (and not the type of "bar girls" you find in most of the places there) and we ended up drinking and playing pool at Aussie Bar for most night we were in Thailand.





Aussie Bar became our local





Phi Phi Island



We spent a day doing a speed-boat tour of Phi Phi island, which was fun. The weather wasn't perfect but we got to see some amazing islands, and cheeky monkeys. We also played a bit of beach volleyball, which was fun - but reminded me that I hadn't done much exercise lately
We went past some really nice looking islands that would be fun to retire to
At monkey beach the monkeys knew how to get their bananas



The monkeys were cuter before the tour guide told us they all had rabies





Summary



It was a great week, nowhere near as relaxing as I thought it would be - but I had a lot of fun!


Ronald doing a traditional Thai greeting
# Posted in the Travel section and tagged as: Phuket
---
Tuesday, June 29, 2010
# Posted by Joel Dixon at 29/06/2010 21:25:36



(geddit? Mashups)



This is awesome! My brother's girlfriend, Carmen posted a link to some amazing Mr. Potato Head designs, made with modelling clay. Another excellent example of how great the Internet is. The Flickr Set is here - but here are some of my favourites:


Bender
Garfield
Yellow!
Another Futurama one - but Zoidberg is great in this one.
# Posted in the General section and tagged as: Web
---
Monday, June 21, 2010
# Posted by Joel Dixon at 21/06/2010 22:58:23

Jules has a few weeks of annual leave coming up - so wanted to do another random travel experience. After getting approval for a week of leave from my team leader ("Well Joel, I guess I won't stop you - put it that way") I joined him on his trip to Flight Centre in-case his trip sounded like something I'd want to join in on.

His brief to the travel consultant was not incredibly focussed ("I'm thinking of skiing or something tropical") but with a bit of discussion Phuket, Thailand was decided on. It did sound pretty fun - so I also decided to join in on the adventure. So it's a week in Thailand for Jules and I in about three weeks time
# Posted in the Travel section and tagged as: Phuket
---
Saturday, May 29, 2010
# Posted by Joel Dixon at 29/05/2010 18:23:42

When Belinda and I discussed our separation a year ago, our babies (our two dogs and two cats) were an early concern. We decided that Belinda would keep the dogs, and I would keep the cats.

But as it's looking like Belinda will be staying in our current house I've realised that it's unfair to take the cats out of this environment. Belinda works from home, they get Bell's attention all day and have grown to depend on human interaction. They also love the size of this three-bedroom house, constantly running up and down the long hallway.

I'd hope they'd get used to any environment I put them into given enough time - but I love them enough to know they'd be happier here with Bell.

I'll miss my little kitties - but I'll be visiting them at least once a week before basketball games, and Belinda will just have to take more photos of them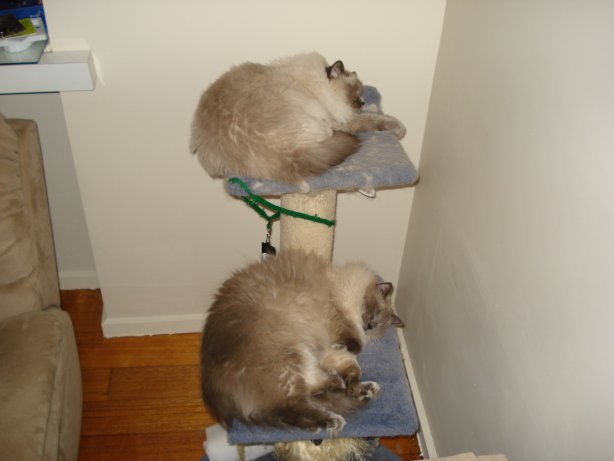 # Posted in the General section and tagged as: Pets
---
Wednesday, May 12, 2010
# Posted by Joel Dixon at 12/05/2010 22:58:51
Updated by Joel Dixon at 14/05/2019 02:37:16

I administer a website that is used by high school students in support of their studies. I was looking through the search log tonight and found the following four searches that all occurred within a few seconds of each other:

gentil
genitil
genitals
balls

I sure hope that student found what they were looking for.

# Posted in the General section and tagged as: Funny, Web

---
Saturday, April 17, 2010
# Posted by Joel Dixon at 17/04/2010 22:38:55

The second meal for my vegetarian week is Caramelised Pumpkin Risotto:






Ingredients


Pumpkin, 500 gram
Canola oil, 2 tbsp.
Onion, 1 medium finely diced
Garlic, 3 cloves minced
Arborio rice, 250 gram
Sage, 2 tbsp. chopped
Salt and Pepper to taste
Parmesan, 4 tbsp. shaved



Method


1. Dice 250 gram of the pumpkin into 1cm-wide pieces. Place in a non-stick frypan with 1 tbsp. canola oil and cook over medium to low heat.

2. Periodically toss and continue to cook until the pumpkin is cooked and the outside is darkened. Set aside.

3. Dice the remaining pumpkin into large pieces and cook in 2 cups of simmering water.

4. When tender, puree the pumpkin with the water in which it was cooked. Add more water to bring the total pumpkin liquid to 1 litre.

5. Heat 1 tbsp. oil in a pan, add onion and garlic. Sweat for 30 seconds and add rice.

6. Toss for 1 minute and add 1 cup of pumpkin puree. Cook over a low heat.

7. As the liquid is absorbed, add another cup. Stir constantly and keep adding pumpkin stock as necessary.

8. After 25 minutes, the risotto will be cooked. Remove from the heat and toss the diced caramelised pumpkin and sage through.

9. Season with salt and pepper and serve with shaved parmesan.

# Posted in the General section and tagged as: Recipe

---

# Posted by Joel Dixon at 17/04/2010 21:34:42

The final item on my 10 things for 2010 list is to be vegetarian for a week (well, from Monday breakfast to Friday lunch). I've left this one until last because it was the one I was least looking forward to. But the friend that came up with the 10 things list also gave me a few recipes, which is only fair after all. The first of which is Malaysian Vegetable Curry:






Ingredients


Red Thai chilies, 2 chopped coarsely
Fresh ginger, 2 tsp. grated
Garlic, 3 cloves quartered
Coriander root, 1/2 cup loosely packed coarsely cut
Ground turmeric, 1/2 tsp.
Ground cinnamon, 1/2 tsp.
Ground cumin, 3 tsp.
Coriander seeds, 1 tsp. crushed
Whole peeled tomatoes, 1 can (400 gram)
Coconut milk, 1 can (400 gram)
Kaffir lime leaves, 6 leaves shredded finely (I just used lime juice)
Palm sugar, 25 gram shaved (I used dark brown sugar)
Pumpkin, 2 1/2 cups chopped coarsely
Potatoes, 3 medium (600 gram) chopped coarsely
Green beans, 200 gram chopped coarsely



Method


1. Blend or process chili, ginger, garlic, coriander root, spices and seeds until smooth.

2. Add undrained tomatoes, process for 1 minute or until tomato mixture is well combined.

3. Transfer tomato mixture to medium saucepan. Add coconut milk, leaves and sugar and bring to the boil.

4. Reduce heat, simmer tomato and coconut mixture uncovered for 5 minutes.

5. Add pumpkin and potato and cook, covered, for about 10 minutes or until just tender.

6. Add beans and cook for 3 minutes or until tender.

Serve with brown rice and roti.


# Posted in the General section and tagged as: Recipe

---
Tuesday, April 06, 2010
# Posted by Joel Dixon at 06/04/2010 21:20:06
Updated by Joel Dixon at 07/04/2010 22:45:10 - Added photos from Jules

This past Easter weekend, a friend and I decided to spend the weekend in Malaysia. This is our story:



The Setup



Last Wednesday I was at farewell drinks for a co-worker, I was chatting with other work mates about living life and being spontaneous. How I should stop waiting around for things to happen (like when I can afford to travel overseas, etc) and live life for the now.

The next day, we were having a few drinks at my manager's apartment (notice a pattern?) and I was still thinking on that theme. I had two more items to go on my 10 things list, and decided to knock one of them off. I then pronounced "I'm going to Singapore this weekend!"

Everyone was positive towards my idea (everyone was drinking), and I eventually realised that I'd prefer to go to Tokyo. Julian decided that he liked the way I was thinking - and said he'd join me. So I left the night early to go home and plan an impromptu Japanese holiday. As pretty much all flights to Tokyo were booked out for the next two days - we settled on Kuala Lumpur in Malaysia as our destination. We also decided that staying in a backpackers hostel would be a different experience, so we booked a few rooms at the Green Hut Lodge.

Everything was booked on the Thursday night - and we left for the airport Friday night to get into KL around 6am Saturday morning.



Arrival



When we first arrived at the hostel, we questioned our accommodation choice immediately. We went for a quick walk and saw the penthouse suite at the hotel across the street was only around $140 a night. While on our walk we also saw a heap of 7-11s, and heard a heap of car horns. I guess we looked weak-legged - as 75% of the taxis passing us would honk their horn and yell "Taxi!" out of their windows at us. We'd heard enough about dodgy taxis to remain pedestrians.

When we got back from our walk we decided to stick with our hostel for the first night - and upgrade the next night if needed.


I really don't understand the colour scheme for this room - maybe it's better I don't



The room could only just fit the bed, but the air-con worked and it was pretty clean





City Walk



We decided to go for a walk around the city, and went on a treasure hunt in a local shopping pavilion (just try to find some chalk in a very high-class shopping centre). Outside the pavilion there was a guy with a "Free Hugs" sign that I couldn't resist, but I was surprised to hear that I was the first person that took him up on his offer that day.

We had a look at the Petronas Twin Towers, checked out the monorail, drank some American-style root beer floats and ate a genuine KL lunch.


He wasn't that bad a hugger to be honest
The Milo nuggets are what I wish our Milo Bars resembled!
Our Malaysian lunch, very nice
Mono-d'oh!
The Petronas Towers. Tickets are free - and you can go at any time you'd like - but you need to line up from 7am to get the ticket.
Not Malaysian at all - but I love my root beer floats!



Almost more than motorcycles, Malaysians love their high-priced watches





Batu Caves



Although not too enthused - we decided to check out the local Batu Caves, mainly drawn to the promise of monkeys. We had great difficulty finding the bus to get us there (buses in KL don't actually run to a published schedule), then the bus took ages to reach the destination.

But when we finally arrived - I was so happy we decided to make the trip - the place was beautiful. Firstly, it was hard to not notice the giant statue of Murugan - but it was the cheeky monkeys that I enjoyed the most. They were running around everywhere, stealing food off tourists and climbing everything. The inside of the cave was pretty impressive as well, although a bit of a shame that people had scratched their names in the walls.


Even the giant statue of Murugan would struggle climbing all of these steps
The inside of the caves, really pretty!
"Milo the Monkey" stole my empty drink container
... and immediately dropped it when he discovered it was empty



Monkey on a post





Dinner



Dinner on day 1 was a huge highlight for me. We decided to eat at one of the street restaurants, and it was amazingly good food for the price we paid. It was also a thrill to see half the road blocked by the tables and chairs of the restaurants.


It must have taken a long time to drive down this street when dinner was on
Jaz, a local beer, was cheap and went down smooth



Sambal rice and chicken ginger, onion - very nice - and no annoying side effects





Night Time



We went for a few beverages at one of the local tourist bars. It started a little slow, but around 11pm or so the bars really started filling up. We weren't taking advantage of the cheap Malaysian beer, drinking a "fresh" German brew - Starkers. Because it needs to be drunken within 7 days there's no preservatives and apparently reduces the chance of hangovers (apparently).


The beer comes in it's own keg and is tapped onsite. Pretty classy, and the fact that the beer is served by a Japanese waitress in a German uniform classed it up some more


The night was pretty hilarious but we didn't get ourselves into any trouble, which I was happy with. Getting home around 3 am (having about 2 hours sleep in the past two days) we both slept for about 12 hours straight.



Day 2



Day 2 was pretty tame by Day 1 standards. We still had some fun, visited the KLTower, had an incredible meal at an Indian restaurant and had some drinks sitting outside the hostel for the end of the night. We decided that the hostel was actually pretty good as part of our whole experience. Cheap and clean was the motto - and they were true to their word.



Summary



Malay words learnt: 1 (restoran - pretty obvious)
Souvenirs bought: 0
Fun had: plenty
More Photos
Here are some more photos from Julian's camera
My free hug.
Getting towards the end of a long day
The German-attired girl serving us booze
We said hello to some random Belarus chick
# Posted in the Travel section and tagged as: Kuala Lumpur
---
Wednesday, March 03, 2010
# Posted by Joel Dixon at 03/03/2010 20:04:48

The green light has been given for my favourite book series to be turned into a HBO drama. Considering how much I loved Rome, The Wire, Flight of the Conchords, etc, etc - I'm excited!

Here's the announcement from the author.

# Posted in the General section and tagged as: Books

---
Next Page
Pittsburgh - For some hockey (why not?), 2017
Philadelphia - Not that sunny, 2017
Miami, Naples and Tampa - Beaches, Babe and a Baby Sloth, 2017
New York - Third time's a charmed lamp, 2017
Pittsburgh Return - Fleury, Fleury, Fleury!, 2017
Chicago - Blackhawks, Bulls and a bean, 2017
Mario Lemieux Fantasy Camp 2017 - Day 4 and 5 (Final Games)
Mario Lemieux Fantasy Camp 2017 - Day 3 (Outdoor Game, Injury, Dinner and Drinks)
Marc-Andre Fleury still giving high fives to his injured buddy
Mario Lemieux Fantasy Camp 2017 - Day 2 (Contract Signing, Training and Game)
Blog Entries



The post about nothing
posted 2 years ago by joeldixon
woow indeed - Very pleased to hear it, my dear friend! link

The post about nothing
posted 2 years ago by adriana
woow - I'm bound to have to agree with your opinion, my friend! link

Pittsburgh Arrival - Border Security Magic, 2017
posted 3 years ago by joeldixon
Welcome Mac - Love to see you here Mac! Speaking of the ice - shame that your big break ... link

Pittsburgh Arrival - Border Security Magic, 2017
posted 3 years ago by MacBeltKarate
Bad-ass Trip Bro - Woah dude! You played hockey with Mario Lemieux!? That bozo is up there as one of ... link

Living up to my title
posted 3 years ago by joeldixon
Yeah, I don't think it's working link



1. the man with no name (45)
2. Hoff (39)
3. Hitman (33)
4. Gav (27)
5. Brad (24)
6. Eryc-Ads (13)
7. milly (7)
8. Deep Lurker (6)
9. thefury (5)
10. Dieter (4)